Microceptic 8 oz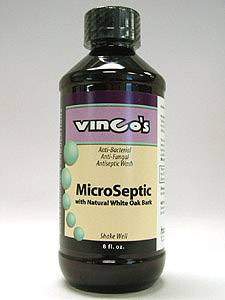 Active Ingredients: Borax (4%), Phenol (1.5%) In a base of: Water, Glycerine, Sodium Borate, Sodium Bicarbonate, White Oak Bark, Boric Acid, Chlorophyll, Natural Mint Flavor, Myrrh, Alfalfa, and Irish Moss.
Directions for Use:
As an Oral Rinse: Dilute 1:1 with water. Rinse and gargle thoroughly for about 15 seconds
For Sore Throat: Use 1 to 2 tablespoons, full strength. Deep gargle until tingle diminishes.
Fungal Infections: Wash area with soap and water. Use full strength and rinse, dab, or soak.
Cuts & Abrasions: Use full strength, dab or rub over area with clean cloth.
Feminine Hygiene: Dilute 1:4 (MicroSeptic:Water) and use as a douche. Shake well prior to use.
For oral and topical use only. Do not swallow.
Note: Where indicated to rub, dab, etc., do not place cotton ball, swab or cloth back into bottle.
Storage: Keep tightly closed in a dry place; do not expose to excessive heat
KEEP OUT OF REACH OF CHILDREN Tamper resistant.
Do not purchase if seal is broken
The ingredients in Vinco's MicroSeptic have been shown to be beneficial in the use with bacterial and fungal considerations.
Consult a qualified healthcare professional to see if MicroSeptic is right for you.
*These statements have not been evaluated by the Food and Drug Administration.
This product is not intended to diagnose, treat, cure, or prevent any disease.